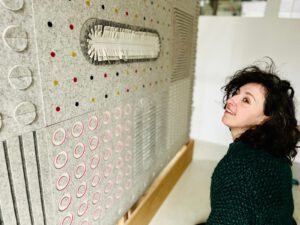 Philadelphia Zorg

Continuing on their work of Surface of Sound, I developed together with design duo Alissa+Nienke a multisensory installation for a health care facility. With this project we are exploring how a spatial installation can have an influence on the wellbeing of the residents living in a care home.

In two different locations of Philadelphia Zorg we are testing the impact of the installation. One location has residents with light mental disabilities (on the spectrum of autism, Down's syndrome or light dementia), the second location contains residents with severe dementia.

The goal of this project is to learn in an open experiment how the installation is being used and what kind of influence it has on the individual residents and the group as a whole. With having a different kind of target group, the impact of the installation will be slightly different for both locations.

For example, in one of the locations the staff more often has to deal with agitation and residents starting to scream or shout as a coping mechanism. We wonder if the installation can help them calm down and ground them by using their senses and getting back into the here and now. In the second location it will be more about stimulating the residents in a positive way, to keep the brain active and enhance the quality of life.
sd